50th Anniversary Meet
August 1, 2019

-

August 4, 2019

$25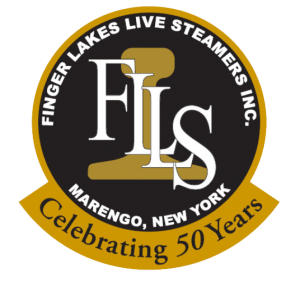 August 1-4, 2019
REGISTRATION IS NOW CLOSED
The Finger Lakes Live Steamers invite all live steam and train enthusiasts to celebrate to our 50th anniversary from August 1st thru 4th, 2019. The meet will be closed to the general public and all visitors must register to attend.
Our club is located in Marengo, New York, halfway between Syracuse and Rochester on 12 scenic acres near the rural communities of Clyde and Lyons. We have three different gauge railroads: 7 ¼", 4 ¾" and Gauge One.
The mainline on the 7 ¼" gauge railroad has changed significantly in the past ten years. The 4 ¾" gauge railroad has seen dramatic improvements too.
We now have two Gauge One layouts. Our garden railroad has three inter-connected loops with over 800' of landscaped and ground-level track. We also have an elevated layout for manually operated live steam.
Visiting steam locomotives must have a current club or state boiler certificate. All FLLS safety rules will apply during this event.
The registration fee is $25 per person (children 12 and under are free). The fee provides a 50th anniversary pin, name tag, information packet, lunch Friday and Saturday and free soda pop throughout the weekend. Registration closes on June 28, 2019.
Register early as our Saturday evening banquet is limited to 175 people. The Saturday Banquet $30 is onsite. Menu: bbq chicken, baked ham, salt potatoes, sweet corn, macaroni salad, tossed salad, fruit tray, rolls, butter, coffee, iced tea and lemonade.
Commemorative merchandise will be available through preorder. Golf shirts $30 (+$5 for XXL & XXXL), FLLS 50th hats $20, FLLS caboose $45, and a decorative train lamp $80 are available.
Area hotel information and campgrounds can be found below. There is limited camping onsite.
If you haven't been to our club before, and even if you have, check out the driving directions from Google maps. Our street address: 302 Clyde-Marengo Road, Clyde, NY 14433. The Google maps directions include pictures of many of the intersections and pictures of FLLS from the road! If nothing else you can see what the club grounds look like from the road.
Further information is available on our web site or you can contact Susan Caiazza at sue.caiazza@gmail.com.
REGISTRATION IS NOW CLOSED
If you have questions about your existing registration, please email Susan Caiazza at the email address above.
HOTEL INFORMATION
Please call hotel directly at 315-539-8438 and mention " Finger Lakes Steamers, 50th" for rates listed.
Room rates are as follows:
Single Bed Room:   $89.99 + tax for Thu. night Aug. 1,   $99.99 + tax for Fri. and Sat. night Aug. 2 & 3.
Double Bed Room: $98.99 + tax for Thu. night Aug. 1, $107.99 + tax for Fri. and Sat. night Aug. 2 & 3.
Rates good until July 1, 2019, includes continental breakfast and free parking. Book early!!!
CAMPING AND RV INFORMATION
There will be limited on-site camping available for a fee. If you are interested in staying on-site, please contact Susan Caiazza at sue.caiazza@gmail.com for availability and cost. For additional camping options, please review the campground information below.